Let the Spawning Shenanagans begin!

We started spawning Sunday afternoon. But Monday was our first full (well, almost full) day of spawning. The fish seem to be ready but they don't want to come up into the raceways. So we finished the raceways at lunch, then did some other things and came back to spawn at 3. Sunday afternoon, Adam and I weren't scheduled to work but we ended up anyhow. Somehow, I got pushed back into my last year role as bucket runner. See, last year if you remember, I hurt my wrist. I hurt it trying to be Superman and carry too many buckets into incubation at one time… ironically, that was the only job I could do after I hurt it until it got better. How does that work out, you ask!? Well, I realized I was dumb, and that it wasn't so bad if I carried only two buckets at a time. No one liked running buckets anyhow, so it all worked out. Well, that was my job yesterday and I feel like I've sort of taken responsibility for the happenings in incubation and the set up and things so that's ok.

Monday, we jumped into spawning, preparing for a full day. I took my position at the front in my FAVORITE job… bucking fish. It was fun times, really. At break, Deena told me something funny, about myself. Adam from the table sent down a severed salmon head down the male fish area (probably cut off from getting fish in the shock box). Well I thought the head was sort of funny, thanked them for the fish head with a big smile apparently. While walking to break, Deena said "You know it's sorta funny… you are the girl who loves reality tv shows and Cosmo magazine… and then you get all excited when someone sends you a fish head!" I told her "Well… that just means I'm a well rounded girl!"

Well, we did some random stuff after lunch, and then went back to spawning. I decided to tackle a job I never did last year. I never cut females last year during spawning… I only did it when we took roe for caviar. I didn't really have a problem during roe, but I was still a little nervous. You have to be a lot more careful that you get out bad eggs and to get all the eggs out of the fish. Oh, and then there's the issue of holding the fish! That was my issue. My plan to grab the fish over the head and in it's gills didn't pan out, so I had to grab it in it's mouth. It all took a bit of practice grabbing them but eventually I got faster. That sure puts a lot more strain on your body than any of the other spawning jobs. My arm started to hurt because the fish are heavy and you have to hold the fish up to your chest so it's high enough. Then your fingers start to hurt and actually, they pretty much just went numb after a while, which made it easier oddly. That's also a job where you really start to be thankful for your rain pants! They still don't protect your clothes from all the blood and gore but mostly. On one hand you have a glove, which you need to duct tape around the thumb because the fish teeth will cut through your glove. The other hand is just plain covered in blood... hopefully not your own!? The fish is pushed up against your chest so your shirt is slimy and bloody. It's a crazy time.

So that's that… let spawning begin. Only 140,000,000 eggs to go! Seriously… :-D

The bears are out and about, but mostly staying on their side so far. The sow with the 2 cubs doesn't seem to be very people shy and isn't easily scared away, so I think she might be an issue this year. I did see the sow with the one cub, whom I've named "One Cub" – mom and "Patches" – cub, smack around my favorite bear, a poor single bear named Blondie. I woke up to some loud bear hollerin at about 5am and saw that Blondie had walked up behind One Cub and Patches while they were fishing. One Cub is very skiddish and doesn't like other bears around so she wasn't happy… smacked Blondie around alittle. Besides that, we've determined that the Sow with 3 cubs is pretty ornery, which is understandable... 3 cubs and all. I've seen her growl at her own cub before. But her really dark, almost black cub, is pretty funny to watch. It's definitely a loner, but is always stealing the fish that mom catches and running off to eat it himself. If mom or the other 2 cubs come up, he runs away with it. It's pretty funny. Anyhow, I've got some bear pictures for you but not too many…


This is the Sow and 2 cubs... they are always on our side of the weir. Adam took this picture, then the bear got spooked and looked like she was going to come right at Adam who was on the deck. The bear turned, but he wasn't sure what she would do.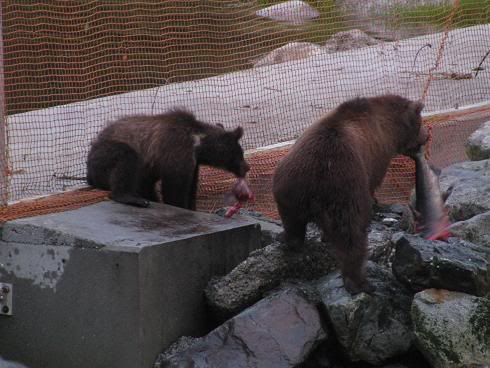 This is One Cub and Patches. You can see the little patch on the cub's neck, hence Patches. I think this was that morning, maybe, that One Cub smacked Blondie around. MMM... fish chunks.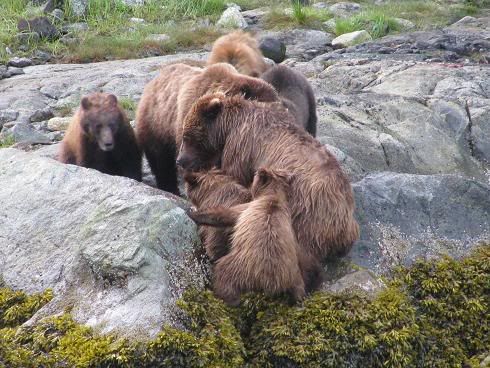 This is just alot of bears. It was really weird to see them all around together looking around at the same thing. This is the Sow with 2 cubs (closest... the cubs are small) and the Sow with 3 (the biggers ones behind). There are 7 bears in there...
SO that's all... the weather's been crappy lately, so no good news there.