Not much new to say except that vacation is a day away! Adam and I leave Monday for town, and then fly out of Sitka on Tuesday, arrive in Maine on Wednesday morning. I'm pretty excited! I haven't left this place since I got back in late January or early February. I can't even remember. It's been a really long time. I had a hard time working on Friday... I had "vacation-itis" or something.

Not much going on at work lately. Feeding and moving fish around and getting stuff ready for spawning season. Last week, we transferred some Chinook to Haines, AK via boat. Adam had to go along with the fish and was gone a few days. It's a 16-18 hour ride to Haines. A few weeks before, we sent off our Coho to Deer Lake. This is when we bring in a plane and load some fish on in a tote and land on Deer Lake and transfer then into some net pens there. I went along on one of the 8 trips.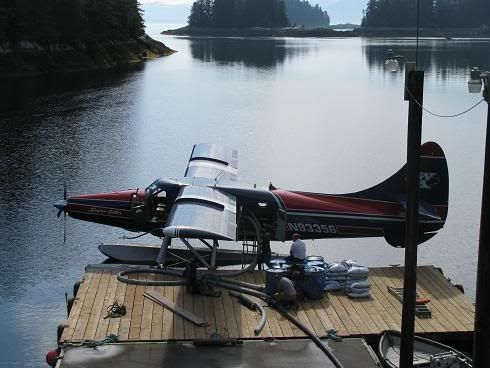 This is the plane we used... it's considered a "Super Otter." The planes we usually get in are Cessnas or "Beavers"... those hold 3 or 5 people in the back of the plane (1 more person can sit next to the pilot.) The Otter can hold 10-12 people. This plane is "Super" because it's a turbine engine so it sounds like a jetplane instead of the Cessna or Beaver sound. It's pretty cool. It's loud when it is sideways and then once it turns around to head out, it goes very quiet. Really cool.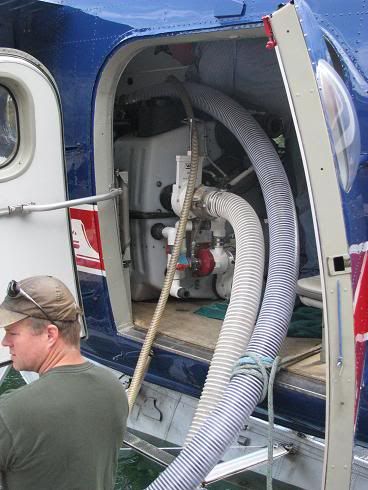 The tote we put the fish into.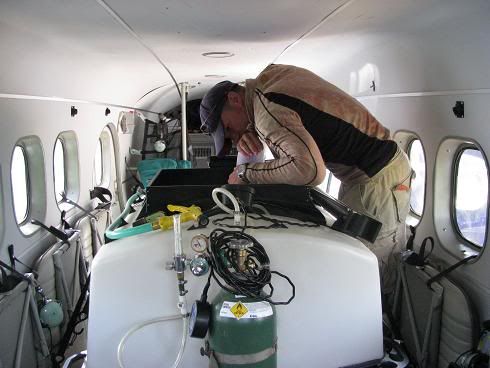 Ben is ready for fish to be pumped in. You can almost stand up in the plane, it's so big. All the seats are on the sides, folded up. I sat about where I'm taking the picture from... just in front of the tote. (Just for point of view, I'm looking out toward the tail of the plane.)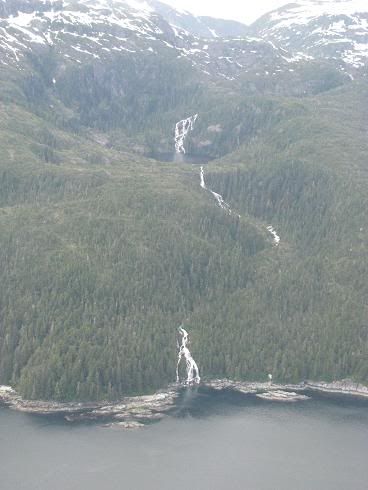 Just some scenery along the way. Deer Lake is south of Hidden Falls.



More scenery. They call this spot "Red Bluff." They get alot of mountain goats in this area.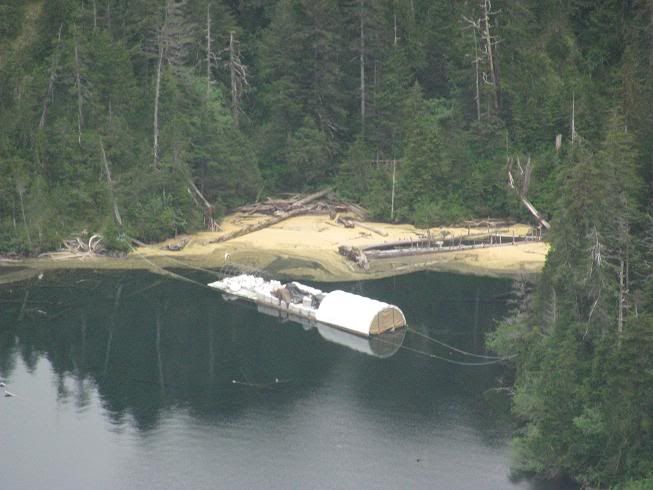 Deer Lake... that is where they keep their fish food. See that yellow area? That's all tree pollen on the water. It was really bad around the time of the transfers but alot worse at Deer Lake. The whole inside of the net pens were covered!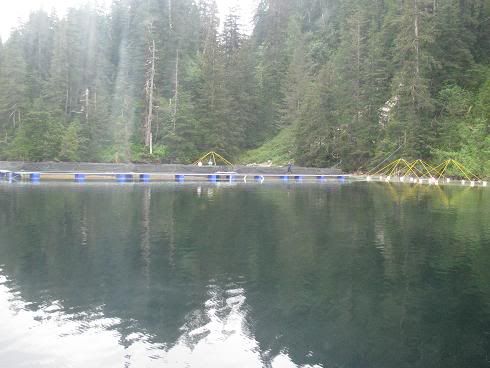 Their net pens. The yellow teepee things you see are a set of floats to hang a net off. Unlike the net pens, there is nowhere to walk around these nets. Just a holder for a net.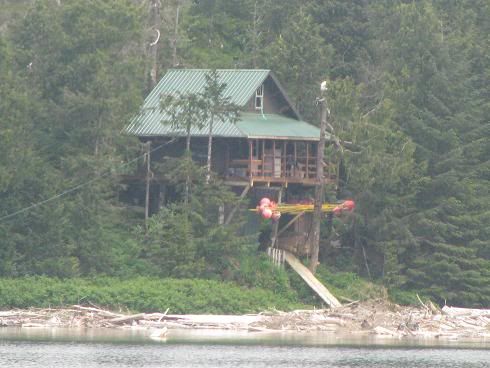 This is where the Deer Lake people stay. A few years ago, their "treehouse" had a fire so they had to rebuild. I'm not sure what it looks like inside.

Well that's all the Deer Lake pictures I have. Now for some sealife...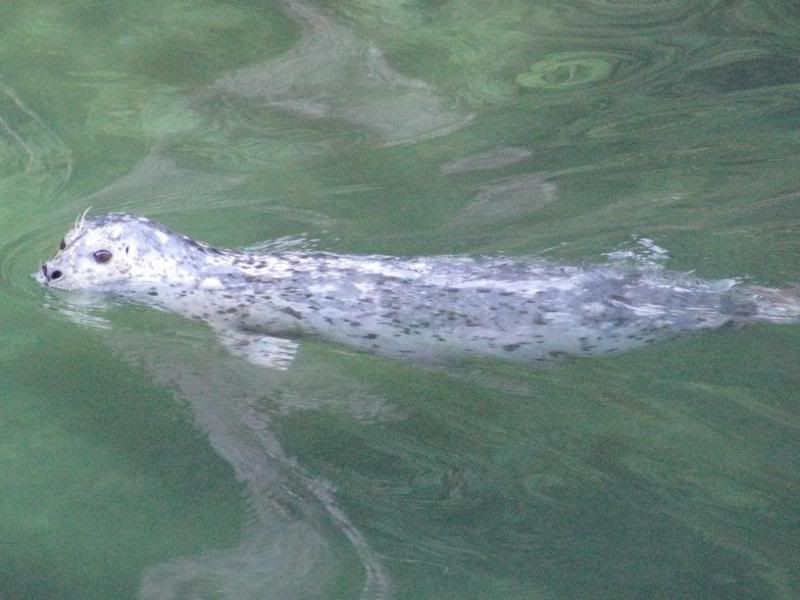 A cool Seal picture I took on our last day at Takatz.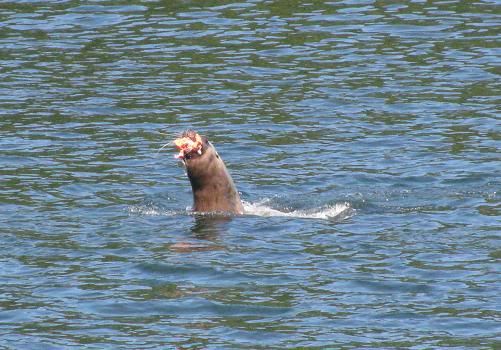 The Loch Ness Monster!? It's a Sea Lion. They like to catch the fish and then thrash them around. It's fun to watch. They throw them in the air.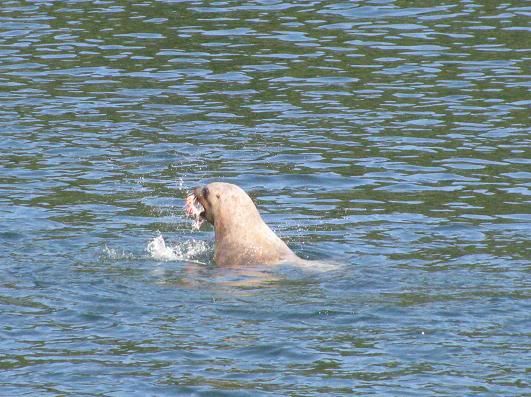 The same Sea Lion. He probably had just thrown his fish or dropped it. They are pretty big and fat. 8 or so feet long and a few thousand pounds.
Well that's it for now. I'll let you know how my first trip to Maine goes. It should be fun!