Happy Memorial Day Weekend! Though we don't really get tomorrow off like everyone else.

Anyhow, not much going on this past week. Our fish didn't grow real well this week and we don't really know why... we had nice weather! We made a trip to Baranof Warm Springs this week and hung out in the tubs instead of the natural pools. They pump water into these livestock watering troughs (that's what it looks like atleast!) Adam went fishing up at the Baranof Lake too. Wednesday we were sort of bored so we decided to make a trip back to the hatchery to possibly catch dinner and just to do whatever... no fresh dinner that night. The next day it was so nice that after work, Adam went out fishing and I...... layed out on the deck... IN MY BATHING SUIT! I tell ya... 60 degrees is the new 80s!

Now we're back at the hatchery (and about to leave back to Takatz actually). We had the best weekend possible! Couldn't have asked for any better weather! Sunny skies and warm temperatures. Yesterday and today, Adam spent walking from the porch to the dock and back patrolling for King Salmon. And yesterday he caught the first two King Salmon of the season... and of course that's what we ate for dinner! I layed out on the grass and read in shorts... yes... shorts! Last year I wore shorts only once and that was in August... this year is shaping up to be a possibly decent summer. Today no fish were caught but they were seen.

This morning right when we got up, we had a bit of excitement. Well it was exciting for me... because of my love/hate relationship with bears. There was a mother and cub eating some grass close to the weir so we watched them for a few minutes. Then I went to do something and Adam said "Oh the cub's crossing the weir... and she's letting it." Talking about the mother. Then both bears come walking across the weir toward the hatchery side. There's a net fence right there so once they got far enough, they crossed over that to walk right in front of the house. I got all excited and told Adam to get the camera. Of course, I didn't want to get too close so I was watching from the window but Adam took the camera and went outside onto the deck. Last time we did that, with the mother and three cubs, she wasn't too excited about it and tried to scare us away (and it worked for me!) So I didn't want to get too close even though the deck was seperating us. But once they saw Adam, she and her cub started walking faster to get away. Once they were all the way under the deck walking away I went out the back door and watched them. It's amazing sometimes getting really close to something so big and powerful. She wasn't a real big mother bear and her cub was probably half her size, but the cub probably weighed the same as I did. It's just sort of cool to look them in the face that close up. Even though we were fairly safe, I still had a crazy nervous energy going through me... and I was all excited and shaking afterward. Adam did get a few pictures but no real face shots... There was probably weeds in the way when you could see the front of them. Just bear butts really...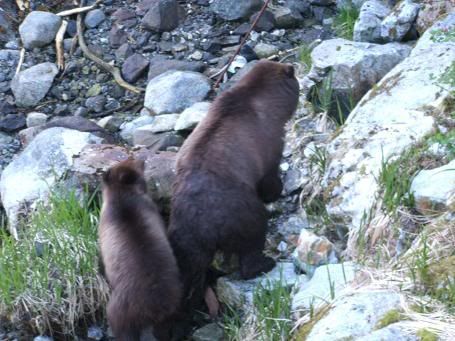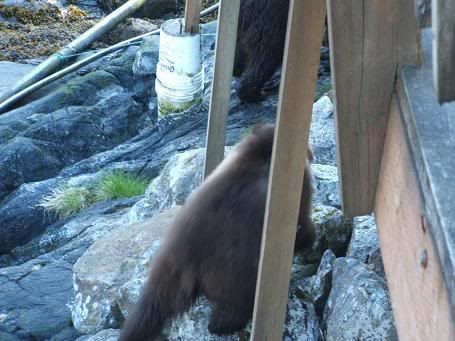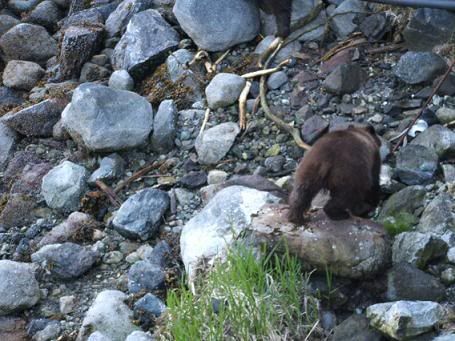 Well that's my cool story of the week. I hope it even made sense... sorta confusing to talk about unless you see right where they were. Anyhow, time to head out. Don't forget to let me know about the "Catch of the Day" orders!