So I don't really have anything to say but I was motivated to post some pictures because of the pictures I took about 30 minutes ago.

Really there's nothing new except for the fact I was woken up in the middle of the night two nights ago by a bear snorting and sorta growling and carrying on RIGHT OUTSIDE THE WINDOW! Kinda freaked me out. It was just sorta walking around and making a lot of noise but I'm not sure why. I was up for about 10 minutes... until I got over the fact that it PROBABLY won't break in... I'm not sure there was another bear out there provolking it or if it was just making alot of noise. They are starting to come around on-site alot more now since there isn't much other food to get elsewhere. The fish hang out here so hey...

OK Pictures...

First here is a picture from the spawning party...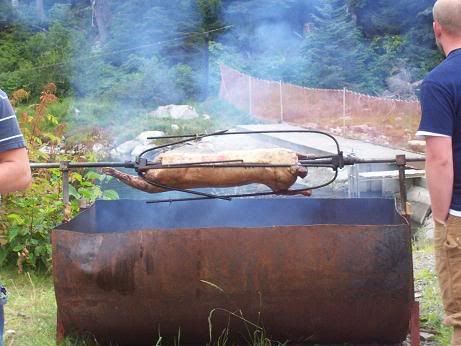 MMMM... this is from the Saturday spawning party. I do have some picture from the Sunday party but they are umm... a bit... umm... embarrassing? scary? ha They were taken later on in the night so yeah... you understand.



This picture is for Valerie. This is the Mama Bear and cub. It's hard to see the mom, but she's basically straight down from the cub but in the water... click it to see it bigger, maybe you can see her. It was really cute!

Alright, so these are the pictures that motivated me tonight. I was just walking up to Dan and Deena's house because Adam and Dan are up there making sausages again. And I saw this... and I ran back to get my camera. Of course it's one of those days where ALL of my batteries have about 30 seconds of life left in them. I managed to snap quite a few pictures and a few were really good.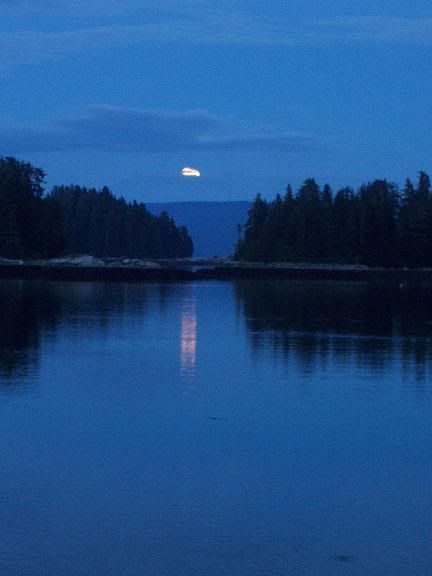 This was at 8:45pm. It sure is almost September now... it's getting darker earlier. BOO.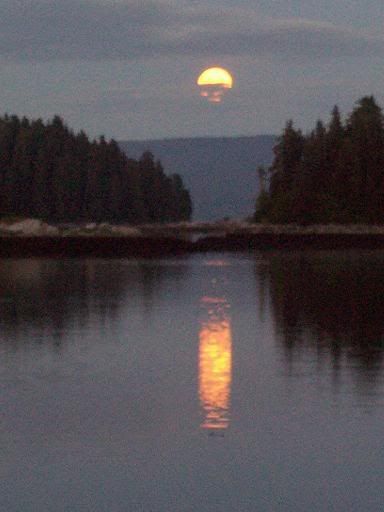 I must have used a different setting on my camera because it's blurrier but lighter...?
OK so these next 2 are taken about 6 minutes later because I ran inside to see if I could get different batteries and to tell Anna to come look. The moon is in a slightly different spot too. They are the same picture actually but I made the higher one lighter... the bottom one is the original one.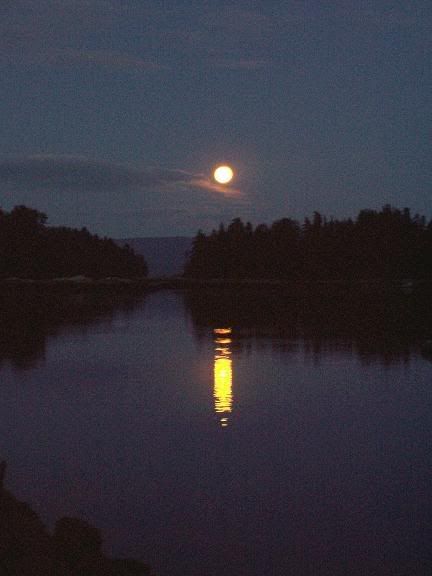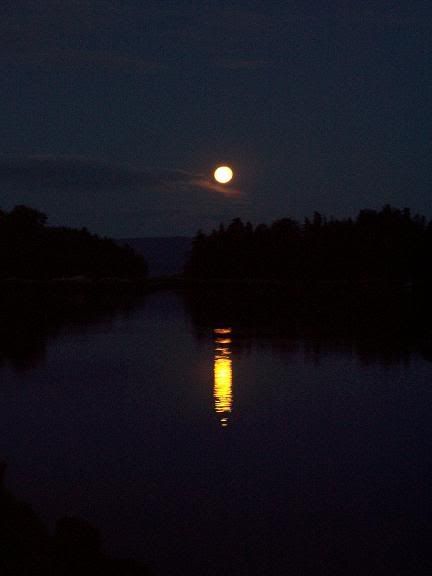 Awesome right!? I was awestruck... MOONSTRUCK, if you will!! :-D
SHOUT OUT OF THE DAY - Dad, I got your letter! I don't really know when it came though... the day we got the last flight, it wasn't in my box, but it was in my box today for some reason. THANKS... I laughed!