Today I've been walking around in a "There's an attacker on the loose in my neighborhood" kinda mood. By "my neighborhood" I mean "Hidden Falls" and by "attacker" I mean an angry mama and her 3 little furry accomplices. Last night, Muttley, Dan and Deena's dog… the tall black and white dog" got attacked by the Mama bear who has the three cubs. Muttley is ok but he got bit in the head and neck… Deena took him to town today on the plane so they could see the vet… he had a bandage around his head so I didn't see the full extent of the damage but you could see that one side of his face was swollen and he had some bite marks on the top of his head. Poor dog… he just looked sad and very subdued... very un-Muttley-like. I don't really know the full story but I know Deena was taking him out and the bear and cubs were up on the hill somewhere around her house. Well, Muttley is the "bear dog" on site and will whine/bark/howl and chase any bear he sees. I know Muttley slipped his rope… and the bear charged. I'm guessing in that order but I'm not sure. So I'm hoping the bear was just feeling very threatened and that's why she attacked… I just hope she isn't turning real ornery and ready to attack anything!

So yeah, today I was very paranoid! Usually when I have to feed in the back, I'm always a bit paranoid because the bears show up in the boneyard a lot or are walking around in the forest which is right against the back round ponds. Also, there aren't many fish to catch anymore so they are hanging out at the fish ladder which is full of Coho trying to get up (spawning hasn't happened for Coho yet.) Angie said that the mama and 3 cubs have been hanging out there a few times a day lately… even during the day when people are walking around. So add that plus Muttley getting attacked by her plus me having to walk to the back round ponds to feed and I was a bit… nervous! Thankfully, I didn't really see them today… I guess I DID technically though. I was looking for Adam this morning to ask something about the back and thought maybe he went to the dock. Well I walked up by the front round ponds to see if I could see over there and couldn't really but I spotted a bear walking around down there. Adam said it was her with the cubs so it's good I didn't go walking over there! This afternoon, though, I was walking out of the back shed and took my time looking around for anything at the door when a bear came walking down the hill from the hydro buildings. It was about 30 feet away… right in the path I would have been taking. I grabbed the door and pulled it sort of closed so he didn't see me (not that I needed to… got scared!), he took a pit stop at the fish ladder and walked through the boneyard and disappeared into the weeds.

ANYHOW, enough about bears… I would like to thank the US Government for keeping their promise to me to get me my passport in 2 weeks (not that I need it NOW!) I received it today… YAY. Melissa, I also received the Halloween package you sent me! THANKS! :-) I got movies today too! It was a good mail day… though it could have been made better if my Cosmo magazine would have come! HA HA OH, Adam told me that Scott said I could work THROUGH the month of November if I wanted… since I'll be staying until December. So that's cool. That will add an extra two weeks onto my paycheck. YAY

This past Tuesday and Wednesday we did egg transfers. Along with all of our chum eggs, we take chum eggs for the Deep Inlet project at Medveije (it's a similar project to Takatz). So there were 9 R48s full of eggs that needed to get moved to Medveije which is in Sitka… Not something you can just pop into the mail and fly them over to them. So Medveije's manager, Lon, came over in a big boat to transfer them. He showed up around 6pm (so we only worked the morning that day and then took off until 6) We had pipes running from a big box in the incubation room all the way down to the dock… basically set up the same way as when we pipe fish into net pens. We siphoned the eggs from the R48s into this big box which was full of water and we caught them down at the dock. First we put them into small mesh baskets that had wet burlap in them (they were rectangle baskets but were probably about a bushel in size) The eggs can stay out of water for a while, as long as they are kept moist, hence the wet burlap. So we filled baskets full with eggs, covered them up with the sides of the burlap, put a wooden cover over them, and then stacked them on a pallet. Once we were out of baskets, we started filling up fish totes. The fish totes are plastic and insulated (I think) but are about the size of big bulk boxes like for apple picking. I think we filled like 8 totes… plus all the baskets… and a few coolers (yeah like beer coolers). That was Tuesday night and there were still like 3-1/2 incubators of eggs left, which they did on Wednesday night. Adam and I weren't working Wednesday ("celebrating" Alaska Day). Anyhow, we were working in the dark down on the dock (and in incubation depending what you were doing) until about 9. On Wednesday, I think they started at like 10 or 11pm even! I asked Adam if there was really a reason to start so late, but he said no. I thought maybe it was because the eggs were supposed to be in darkness but he said it doesn't matter… we just started late because the boat takes a while to get here. Then they have to go back to Medveije and immediately unload and deal with the eggs.

Well, that's that folks. I think that about covers everything for this installment. Even though this was long, there isn't that much going on here right now. We spent a while cleaning out the PVC room this week… which means it's a slow time! :-) Still no snow on the ground. But here's a picture of the snow up on the mountain… I took it the other day. Hopefully you can differentiate the snow covered mountains from the sky.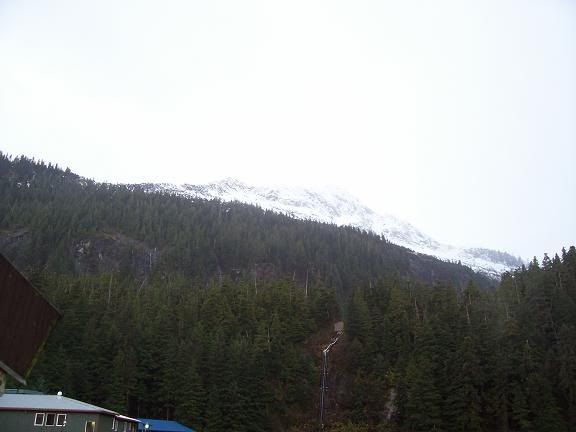 OH YEAH and the best part of the week… I made Grandma Czuba's special fruit salad… mmmmm! It's fabulous! Comfort food from home! :-) Adam likes it too.

SHOUT OUT OF THE DAY - To Melissa, thanks for the mail!