Back again! I guess it's been two months since the last blog and I didn't realize it but really I haven't had much to talk about.

It's the week before Christmas and I will be home in 2 weeks and 3 days! YAY! I think most of you know that Adam is coming home with me again. Did I email that out? I can't remember. We will be home on January 2nd. It was originally the 5th but we found out we leave the hatchery on the 30th instead of New Years Eve. We decided that would be way too many days spent in Sitka so we forked over the money to change our flight. I'm sure you also know that we are heading down to Florida on from the 7th - 12th for a vacation with Melissa, Mike, Karleigh, Valerie and Steven. ALSO Adam's parents are coming down at the same time! They are actually going from the 6th-13th so they will be there longer. It should be fun! I've never had a vacation with tons of people!

Anyhow, we're getting ready for Christmas. Even though I'm sad I won't be home, I'm also happy that I'll be here. It's been fun getting ready and talking about Christmas and our plans. On Christmas Eve, Jacquie, Ben, Melissa, Adam and I are going to have dinner and do our gifts. We decided our dinner is going to consist of all of our traditions. I made pierogi and am going to make some kolaczki. Melissa is Swedish so she is going to bring a few things they eat... one of those things being PICKLED HERRING. I'm sure I still won't eat it but it'll feel like Christmas to have it there! :-) I think she's going to bring a cucumber dish and some rice pudding they eat. I'm not sure what else we are eating. We are still yet to figure that out completely I guess! I think for Christmas, we are all just going to do our own thing. Then everyone might get together later in the day.

We had high hopes for decorating. Adam was all about making a garland to go around our window. First we started with the making of a Christmas wreath, and I think he decided it would be too hard for a garland! Making a wreath isn't as easy as it looks, when you are working with spiky needles! It worked out nice though. We have it hanging on our door and have lights in the wreath and all around our door. Then Mom sent me some Christmas decorations so I got motivated! I put some colored ball ornaments along the window and have our new stockings hanging on the holders for the curtain rod. (I still haven't made the living room valance but the posts have been up for a while!) Then there was this little fake tree over in the bunkhouse and we all made fun of it because it was sorta frosted white. I decided it probably wouldn't look as ugly with ornaments so I took it and decorated it. Now I'm really glad and I love it! Adam's parents sent some presents so we have some under the tree already. :-)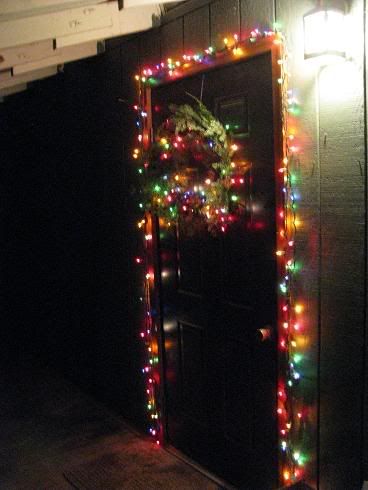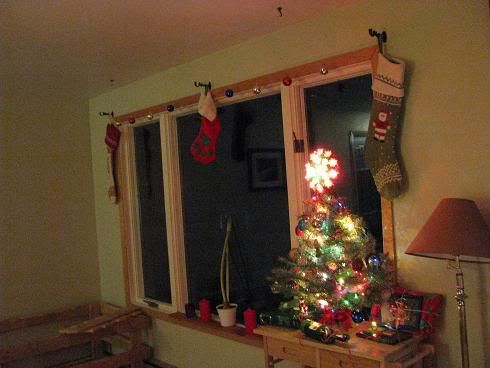 You can't really see Adam's stocking very well but it has a deer on it and it's red and white. I bought these stockings and LOVE them now! Especially mine, the green one. They are knitted and are really really nice! I also got a cute stocking for Tucker!

So far we have no snow, so Mother Nature better get movin on that! I don't want TOO much but you have to have snow on Christmas. Today it rained... all day! It was just awful! Nothing is worse than blowing winter rain... it just feels so cold. The hunters also want some snow! Even though most of them have gotten plenty of deer, they like to go out and see tons of deer on the beach because of the snow. Adam has gotten 3 deer already and hoping to get 1 or 2 more. We have big plans to make burger and sausage with it (italian sausage and chorizo!) MMMM...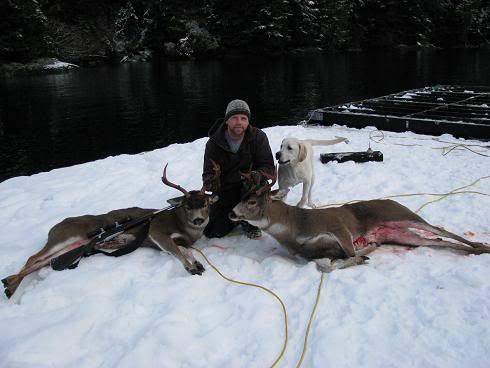 These are two deer he got in the same day.

A month ago, we did have some snow but now it's melted. But for a while there, most of it was gone but we had awesome clear weather but it was really cold. Because of the humidity in the air, everything got covered in these crystals. It looked like snow but when you looked close, it was individual crystals that just kept growing. It was pretty cool and some of the crystals were really neat!



Make the picture bigger and it's cooler!

Well, there hasn't been much going on lately. We have new neighbors next door. Dan is the new maintenence guy and his wife, April, just got here a few weeks ago. Dan has worked here before, twice actually, so he knows his way around and has fit in really well! April is fun and sounds very southern (they're from NC). I really like them both. They have two really nice cats that I love to pet. :-)

Not much has been going on at the hatchery. We have just been doing alot of odd jobs and prep for winter. Not gonna lie, I've been pretty bored! Today I had fun though! Lately I've been getting thing cleaned up and ready in our lab. It isn't much of a lab really but I'm trying to make it more of a lab. Scott wants to start doing some microbiology type stuff to see if we can figure out how to treat out fish. Like growing some bacteria on petri dishes. So I'm in charge of that. I did some test plates yesterday and found some bacteria growth today! That was cool. Then played with fish heads for the rest of the day. :-)

Every year, a certain percentage of our coho and chinook are "tagged." A crew comes and they use some machine to put a tiny 2mm long metal tag in their head. Just so we can learn stuff from our fish I guess. During spawning, we send the heads of the tagged fish to a lab so they can pull the tags out. These tags have a code on them. But for our little fish that come up (the ones we had just released that year that just get confused and come up the ladder) we save in the freezer and pull them out ourselves. So today I pulled the tiny tag out of 21 fish. It was pretty fun, for some reason! I just really enjoyed myself. Anyhow, it felt like the first day in a long while that I've really enjoyed work. Just because there hasn't been much to do. I don't like those days where you are scroungin for stuff to do and when you find something, it's usually some crappy job you don't want to do! That's winter hatchery work for ya!

Anyhow, I'll end this blog with another picture. Two weeks ago we ponded a group of Chinook and a few days later I morted them. Getting out all the dead eggs and dead fish that came out along with the live ones. When you have tiny babies, you always run into a few oddballs!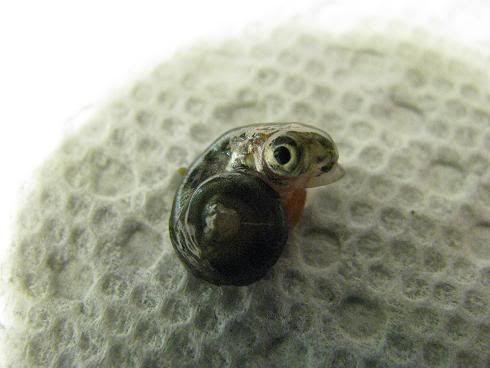 Curly here probably wouldn't have made it very far in life. The usual "freak" fish we see are two headers... I haven't seen too many curly-Qs.
RECOMMENDATION OF THE DAY:
If you haven't seen Julie & Julia, I'd recommend it! Atleast for the ladies. I watched it last night with the girls and it is very good and funny. If you don't know, it's a movie with two stories. One tracks Julia Child's life and her process of becoming her famous cooking self and this other lady (in real time) who is looking for something in her life and decides to cook her way through Julia Child's cookbook, 524 recipes in 365 days, and she blogs about it each day. I think all of you ladies would really like it, just like we did! Julia Child was a hoot apparently!